Unexplainable Backcountry
As the real world known as "life" faded into the distance at the beginning of archery season,
the vision of bugling bulls and high country mulies began racing through my mind. Little did I
know I was in for the season of my life. With 27 days to live and breathe what we call hunting,
I was beyond ecstatic to be able to go and do things that most people now in society don't
even know exist.
I hunted the first week with my best buddy chasing trophy bulls, calling in spikes and cows
that had death wishes, and putting in miles upon miles under our boots with multiple close
calls. Everyday was getting us closer to what we thought would be success. With the sun
falling quickly, it was marking the end of the first week of the 2010 bow season. We were able
to locate and stalk a group of deer with a couple of small bucks just before dark. As I slipped
an arrow behind the front left shoulder of the bigger of the 2 bucks, my adrenaline rush was
not to disappoint. Watching my first buck run 50 yards and fall over backwards was
something I had dreamed about as a kid growing up. As the meat was left hanging from the
rafters of the garage for the night it was a huge feeling of success but also relief; relief in the
fact that I could focus on elk for the rest of the season knowing that another tag wouldn't go
un-used.
Driving back westward with a little bit of antler in the rear view mirror I had a week of
inescapable work that needed to be attended to, and since I was in town I was not to head east
again without kicking off the 2010 waterfowl season. With a couple phone calls from a good
buddy about which fields the early season honkers had been using, we found ourselves
setting out over 100 full body goose decoys along with digging our blinds in the edge of the
field. Climbing into our lightly frosted blinds that we had set the night before, we laid restless,
waiting on the sunrise of yet another "opening day". After two days of steel and feathers
flying I was ready and itching to get back into the high country of the Rocky Mountains.
I can't really explain to you in full what took place in the next 24 hours after leaving Portland,
but I was about to test who I was and what I was capable of as I ventured solo into the
backcountry of the majestic and untamable high mountains. I reached in the late afternoon
what was to be my base camp for the next 14 days and wasted little time setting it up and
loading my pack with everything to survive more then comfortably in the backcountry for the next three to four days.




Waking up at 4 am after a much needed and surprisingly very cold
night of rest I hurried to cook some breakfast, throw my pack on, and start down the long dark
trail by 4:15. The first lesson I learned here was you find out very quick how heavy your pack
really is. About 200 yards down the trail and I felt like tossing the tent, pad, and sleeping bag
in the sage brush, 400 yards and the water was lucky it was still in my pack…
I was able to crest my first destination's ridge top just in time to see the

sun roll away the darkness on day number one in God's amazing country.

Looking for over a half hour into the first canyon I was surprised to see

nothing but pine trees, sage brush, and seemingly life-like rocks through

the length of my binoculars. I threw my pack back on and headed for the

next canyon hoping for a little more life than the first. Reaching the

highest point of the next canyon I herd the last noise I expected to hear, a

cow. And not the kind of cow you want to hear in the backcountry… a low

moaning like the sound from a moo cow hit my ear from the hillside below

me. I was very frustrated that I had come miles into this area only to find

I wasn't the only one up there that didn't belong. Standing there

wondering what would be my next move I heard a ghastly bugle from the

same location. Raising my binos to my eyes I began to see elk start coming

out of the woodwork all over the hillside below me. Then I heard it again,

a low moaning more like a growl then anything else in the herd below me. I

was able to spot a decent 6x6 for a quick second which I found out later

was the culprit of this noise. Between the ghastly bugle of the little 4x4

and the growl of the 6x6 I had made up my mind that either one would be

a big trophy to me if presented the opportunity. I made a game plan in

about five seconds and dropped my entire pack on the ridge and headed

down the opposite side of the ridgeline with just my bow and rangefinder.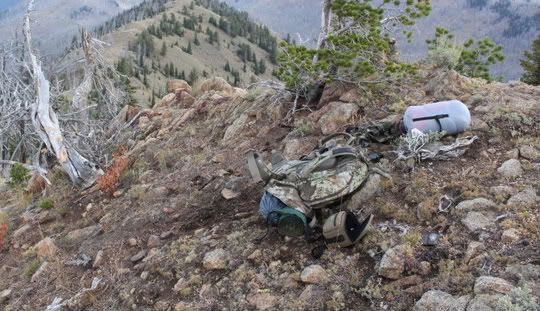 500 yards down the ridge and I popped over the top to locate the
herd again. Cows were feeding about 80 yards below me and the 6x6
was chasing some cows and the 4x4 farther down the ridge so back
over the edge I went and ran a few more hundred yards down before
coming over the top again. Another 5x6 bull was below me in the
bottom so I waited for him to feed off before I advanced. As I moved
back up the ridge to the talkative herd I bumped the 4x4 and a few
cows that were closer then expected and had been feeding down
toward me. They busted up along
the slope to the main herd and started feeding again. Sitting there
watching this hunt unfold was almost too surreal, just watching the
elk do what elk do, with the herd bull chasing the little one off, cows
talking, feeding, and sleeping, I was really trying to just live the
essence of it all.
Before I get any further in the hunt I have to say the

only reason this hunt worked out was because of the

wind. So many times in bow hunting the main deciding

factor that makes or breaks the hunt is the wind. With

a strong and unheard of steady breeze out of the head

of the canyon it was one thing I could rely on all

morning.
I continued my stalk back up the ridge with every carefully placed
step inching me closer to the herd and my dream. The herd started to
get alert for some reason and started moving up the ridge to the
saddle that I had just come from. I backed out of there and started
running up the hill to try and get around them. But before I got to the
top of the ridge I started angling towards the elk and was stopped
dead in my tracks by a cow staring at me no more then 30 yards
away. I quickly slid back behind a tree and the cow went back to
feeding. Now for a reason I will never know, the herd decided to
come down the ridge straight towards me instead of going over the
top into the next canyon. From here it all happened fast.
As I kneeled down and nestled into the base of a bushy pine tree,
cows immediately started walking in a single file line on a beaten path
13 yards below me. Cow after cow after cow went by at a slow pace
feeding every couple steps. About the 20th elk to come by was the
small 4x4, stopping at 13 yards to feed as I was thinking to myself
"what are you doing Andrew???? A bull at 13 yards and you're
passing??" I knew full well I might have just made a big mistake
watching this bull walk out of my shooting lane. I was still so
enamored with the grunt of this herd bull somewhere within 80 yards
around this pine tree that I knew it was either the herd bull on this
hunt or nothing at all. Eight more cows walked the trail below me
followed by a little gap in the action, but not for long. A big cow
started through my shooting lane as I saw the tines of my dream
coming around the pine tree. Shaking like a wet dog in sub-zero
temperatures I managed to pull my bow back and rest my sight on
its tan hide. He started up the hill a little bit towards me then started to
run to push the cow back on the trail just as I released, sending 29
inches of carbon into his vitals. He buggered and disappeared down
the trail.
My heart was pumping so hard that I lay down in awe of

what just took place. Knowing I had just killed my first
bull was one of the best feelings I have ever been

presented with. I eased around the pine tree to my

left to see if any elk were still in sight and bingo! 50

yards away stood my bull swaying back and forth with
20 some inches of arrow sticking out the opposite side

of his body. A couple minutes went by before he lay

down and I slowly backed out of there and headed

back up the ridge with a skip in my step to empty my

pack. As I reached the highest point where my pack

was, I looked back down over God's amazing country

and an elk body caught my eye below where I had shot

my bull. I pulled the binos up quick and was flooded

with emotion as it was my elk all piled up and lifeless

80 yards down from where he had lay down. I imagine

when I backed out of there my scent worked its way to
him which got him back up and made him run straight

down hill as far as he could make it.




A quick phone call

was exchanged with my dad, then down the mountain I

went to put my hands on a dream fulfilled.
With this being the first animal I ever had to cut up by myself I
stood there looking between my knife and the bull

wondering "where do I start". Shot the bull at 8:15 am

and was found walking back into base camp at 3:30 pm

with an 80+lb pack and an aching body. I was truly

blessed to have some really good friends camped up

near me at base camp that asked no questions and

were ready to go help pack it out. One of them had a

pack horse so we spent the rest of the daylight cutting
a trail into the bull and got back to camp with the rest

of the meat on the horse and the rack on my back at

10:00 pm.
Rolling out of my bed in Portland I never imagined that 24 hours later
I would be slipping an arrow into a herd bull at 12 yards. There's nothing like
the overwhelming feeling of success and accomplishing something
I've set out to do for the last 8 years. God really blessed me this
season and I'm ecstatic to have a freezer full of meat to get me
through this year at college.
​