Discussion Starter
•
#1
•
I wanted to pass long a hunting story about my first bow kill. Many here at iFish offered me advice, when I was getting started with archery. I thank you. Here's how my first bowhunt turned out....
Since this was to be my first bowhunting endeavor, this hunt had been in the works for a while. A friend, Matt, and I made plans back in December 2006 to take this trip. I bought a bow this past April and practiced shooting all summer. I passed my Alaska bowhunter's certification class in August, and off we went.
We were gone a total of eight days. When we got there, the weather was hot, and the wind was out of the west. With temps reaching 75 degrees each day, the caribou were not moving much, and a west wind kept the caribou from traveling our direction. We only saw a dozen or so animals during first five days of our hunt, and I am sure they were just lost.
On day six, the temps finally cooled a bit, as the clouds rolled in. The wind also changed direction and offered us some more promising hunting conditions. We saw more animals on day six than we did the entire previous week. We got close to a couple bulls, but never were able to take a shot. The hunt was certainly getting more interesting.
On day seven, Matt got within two feet of an 80-animal herd! No kidding. The lead cow literally walked into him. Matt was frozen behind cover, and she bumped into the arrow that was on his bow! She got a whiff of Matt, and bolted. The entire herd followed her and crossed just outside of bow range from Matt. There were three really nice bulls in that herd. I asked if he was upset, and he said, "Are you kidding? That was awesome!" Matt is a true, hard-core hunter. He was just soaking up the experience, and I really learned a lot from Matt on this trip.
Later that afternoon, I spotted a bull that was bedded down just 80 yards from the road. He was lying in a small depression and just his antlers were exposed - he was definitely a bull! The wind direction was perfect for a stalk, and I crept within 15 yards for the shot. The bull wouldn't stand up, and I dared not get any closer. I just knelt and waited. In an effort to get his attention, Matt ran about 100 yards up wind of him. It certainly worked. The instant the bull caught Matt's scent, he stood up and saw me crouched beside him. The bull made the fastest 50-yard dash I have ever witnessed. He stopped at a range of about 60 yards, and stared at me. I stayed still. When the bull looked back at Matt, I drew the bow and made an accurate shot. My first caribou, and my first animal with a bow! Seven days of hard hunting and patience paid off.
Here's a photo for you guys: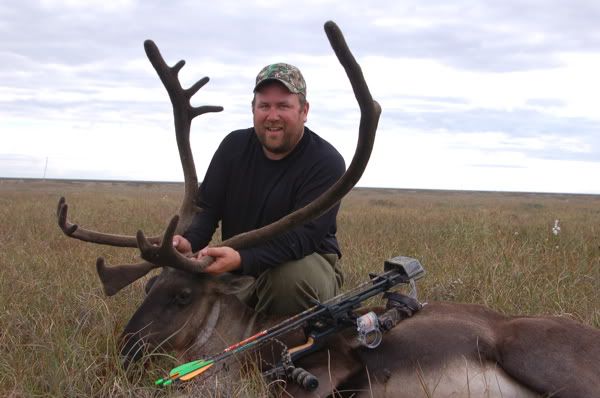 As you can see, the Tundra offers virtually NOTHING to hide behind. I was instructed to practice long archery shots before the trip, because this might be my only chance at getting an animal. I am glad I did. I wanted a closer shot, of course, but I am glad my practice at longer ranges enabled me to make this shot with confidence.
Upon advice from another hunter, I took the meat to Northern Air Cargo in Deadhorse, AK. They froze it and flew it back to Anchorage for me. Once the meat was back in Anchorage, they stored it in a freezer and waited for me to pick it up two days later. Surprisingly, the cost to freeze and ship the meat was only $44. Truly, a bargain at twice the price!
During the hunt I saw some pretty neat stuff. The state troopers paid our little camp a visit, via helicopter. It was pretty cool seeing the chopper land on the dry stream bed, just a few yards from our camp. We also saw lots of critters: hundreds of caribou, dozens of musk ox, several ptarmigan and two arctic foxes. Next time we need to remember to bring fishing rods. During the slow times, fellow hunters caught some dandy arctic char and grayling. Matt and I played cribbage.
Anyway, I wanted to thank those on iFish that offered advice and share my story. I hope you enjoyed it.
Dan
And, for those interested in equipment, I have a Mission X3 bow set at 58#. I shot the caribou with a Beeman ICS Hunter arrow, tipped with a 100gr Slick Trick broadhead.