I saw a bobber stop thread tonight asking where or what to use for bobber stop material.
So I thought I would do a thread on how to tie a bobber stop without the use of a special nail knot tool or buying pre-tied nail knots (bobber stops).
It's very easy and can be tied very quickly!
This is pretty much what I posted on another site back in '05 but I'm modifying it.
I usually carry a small spool of 30# dacron in my vest but also have a few random lengths (3'-5') 30# Dacron coiled up in little zip lock bags.
I realize that bobber stops are real inexpensive now days since they are being tied over seas but I just like to tie my own and as long as I have some Dacron with me or something comparable, I'm in business.
Grab you a piece of 30# dacron about 8 inches long and place along side your mono or braided line.
Make an overhand loop with the two lines.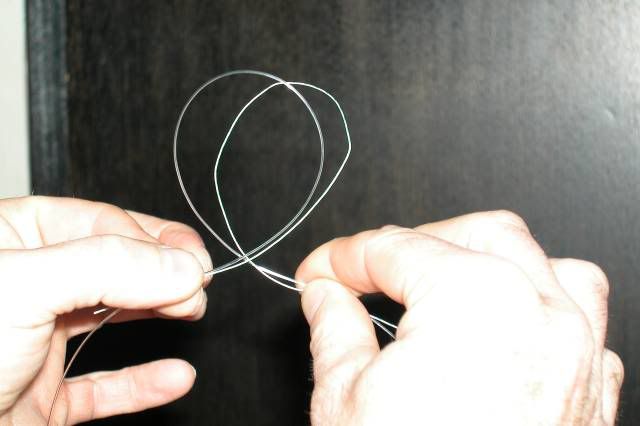 Thread the dacron line through and around the loop
only
about 4 or 5 times...
Grab the two tag ends on the dacron and release the mono.
Pull on both tag ends until the nail knot is formed.
Pull real tight on the tag ends to make sure your sliding nail knot (bobber stop) is real tight so as it doesn't slide too easy and voila, you're done.
Well…Almost!
Grab your scissors, trim your tag line to the length you prefer and then you're done.
Feesh on!
I use to trim my tag ends real short but on occasion the knot would loosen up and slide to easy.
So now I leave the tag ends just long enough to grab and re-tighten if necessary.
The knot still goes through the guides no problemo.
This knot (adjustable stop) can be used on a plunking rig for a slider rig (sliding a plug down your line after your line is in the water), etc.
Dano