I wasn't even sure I could get the time off. I already had to cancel my first week of vacation due to a heavy work load. The one prime week I planned a year in advance by looking at the tides was gone. I had no choice but to take what time was available before the next maintenance window was announced.
I finally secured a block of time that in reality turned out to be three days of fishing.
My first day was to just make sure the cat floats and to ensure everything works like it should. I picked the upper Kilchis mainly for the scenery. If you want to show someone from out of state what Northwest Oregon looks like, float the upper Kilchis. It's a jewel of a river.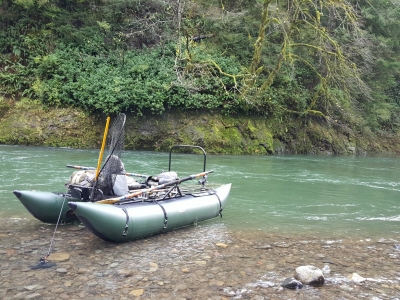 The high point on this trip was seeing my old friends Jennie & Bill.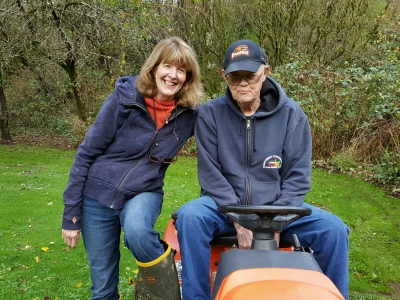 Just as I was floating by their place, Jennie was out walking her dog. I pulled the cat over, got out and gave Jen a big hug. Bill was up mowing the grass so we worked our way up to their place. We chatted about old times when we fished together. Before I left Jennie brought down some warm brownies. Wow, what a treat.
The last couple miles of the float I saw more chum than I could count. I didn't even target the fish at all this year, including this day. It was great to see the larger numbers of fish on their spawning grounds.
On the second day I decided to float the lower Wilson. The boat traffic was what you would expect for prime time salmon season. If you wanted to secure a spot on the river in your favorite hole, you might want to get there at 4:00AM. I had an offer to fish the lower river with a launch time of 03:30 AM. I had to decline for a couple reasons. My main reason is I have to let out Bullet, the wonder dog as the little lady is out of town. This limits me to a six hour time window. Second, that's just too early for me to get up to catch a fish.
I decided to launch around 9:00 and pull off the river at 2:00PM. Every spot was occupied with bank fisherman or boats for the first mile of the drift. Finally I came around the bend in a stretch of water and saw only one boat perched at the top end of this nice, deep hole. As I drifted by the couple in the boat, I asked how their day was going. The guy replied back it would be better if he had a bobber down.
I slowly floated by and anchored up a good 75 feet or so below them. On my first cast I hooked a bright fish that stayed down deep. I was thinking Chinook the whole time. The gentleman I just floated by came over and offered to net the fish for me. I really didn't need the assistance but since he was nice enough to offer, I obliged. I was expecting a Chinook but was pleasantly surprised to see a big broad shouldered steelhead buck. We snapped a couple pics and let him go.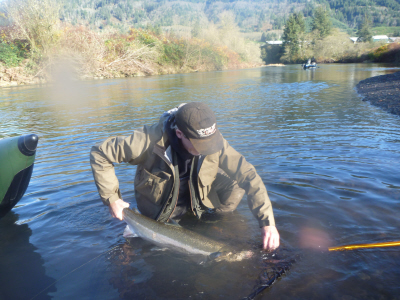 The gentleman introduced himself and said him and his wife had just pulled up to this drift a few minutes before I got there. I thanked him for helping me net the steelhead and in return i gave him one of the Salmon Shrimp Tail jigs that I had caught the fish on.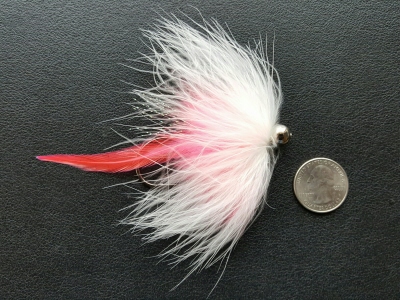 Two casts later his wife hooks up using the jig I just gave her. This happens to be her first salmon ever and with the help of her husband, she lands the salmon, a nice Fall Chinook buck.
Not even two minutes after that, another boat floats by and hooks up right in front of us. It happens to be some old friends that are customers of mine. It was great to see them land another bright fish.
My time was short, so I soon shoved off and head down river.
Later I landed a slightly bronzed buck and decided to let him go.
Second day I did the same late shove off. I again, floated by the occupied drifts on the first mile of the float. To my surprise I came to the nice drift I met the couple the day before and they were parked in their sweet spot at the head of the drift. We exchanged pleasantries and they stated that they lost the jig I gave them shortly after I left the day before. I noticed they had a couple beat up darker color jigs on their rods. I gave them two new jigs and said, here, tie these on as they've been working really well for me. It was Deju Vu again. She hooked up on her third cast but lost this fish after a few minutes.
I hooked up a few casts later and land another bronze buck. Back to the drink he goes.
The rest of the trip includes two feisty Chum that get sent back to the drink too.
While I'm nearing the end of my drift, I get the call from work. My assistance is needed the following morning for emergency standby.
The end of my fishing time window is fast approaching. I had one last shot of getting a fish for the freezer and it would be from the bank.
I packed two rods and headed to my favorite stretch of water on the lower Wilson. To my dismay, the spot was taken. I went upriver for a bit but got blanked. I was heading back down river with about an hour of light left when I saw that my favorite spot was open.
The fishing gods were smiling as I hooked a nice fish right off the bat. Regardless of their condition, I let all hens go, so I was hoping it was a buck as I had no fish at home in the freezer. It turned out to be a beautiful buck in nice condition.
This fish was a blessing as it will be part of a traditional Thanksgiving dinner for a couple who asked me if I could share some fish with them as they hadn't had a chance to get out this year. It will be for our family too as we're hosting Thanksgiving this year to feed five people.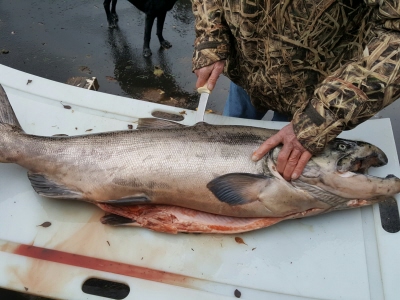 I truly feel fortunate to live where the Kings come home.